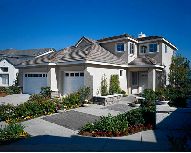 Murrieta Homes
The City of Murrieta was recently recognized as the safest city in Riverside County and the 11th safest city overall in California. Murrieta offers a family friendly city with above average schools and plenty of activities. The City of Murrieta sponsors many free activities such as the fall spooktacular carnival at halloween, holiday toy and food drives and the Holiday Magic parade.
If you are familiar with the Murrieta and Temecula real estate market, you already know that the homes and property in this area are some of the most affordable in Southern California. Over the past year, homes in the Murrieta and Temecula area have become even more affordable. You will find an abundance of Murrieta homes availible to you with excellent pricing. Murrieta is a young city, incorporated in 1991. It is one of Southern California's fastest growing places thanks to a climate that is milder than most inland areas, a location adjacent to the Santa Rosa plateau and its proximity to San Diego County . The city's housing stock is very new and much of it is upscale.
Murrieta's parks include such major sites as 165 acre Cole Canyon Park , a nature preserve, and 46 acre Los Alamos Hills Sports Park that offers nearly every form of sports activity. Facilities are spread throughout the community placing recreation opportunities close to every neighborhood. In addition, the city has almost completed the four acre Town Square Park with an amphitheater, bike and walking areas and lawns in the city's historic downtown.
For those of you considering relocation to the Riverside County area, this website will give you an excellent opportunity to learn more about our Riverside County communities and the investment opportunities available in our county. There are plenty of reasons to bring your family to Murrieta, please free to visit with our sponsors to find your Murrieta Home today.