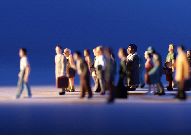 Murrieta Demographics
Murrieta Demographics, by
John Husing
Ph.D
---
Demographics
Demographically, Murrieta emerges as a rapidly growing city, with some ethnic diversity, where relatively young and increasingly well-educated families are migrating from costly San Diego County to raise their children. To qualify to buy homes in the city, the families migrating to it must be doing very well economically. From 2000-2006, Murrieta more than doubled from 44,282 to 92,933 people, a gain of 48,651 (109.9%) in just six years. This was the largest increase among the 48 Inland Empire cities and made it the region's eleventh largest city, slightly behind Victorville (95,145) and Temecula (93,923). In this period, Riverside County , the fastest growing in California , added 281,690 people, up 16.5%. Murrieta is part of a Southwest Riverside County market area that is forecasted to reach 434,746 people by 2010 and 686,850 by 2030.
By 2005, the Murrieta's median family income was estimated at $76,230. Its average household income was $89,367 and its per capita income was $28,910. Each of these was substantially above the equivalent income measures for Riverside County : $53,939 (median), $71,798 (average household) and $23,545 (per capita). As a prosperous community, it is not surprising that 33.1% of the city's families earned $100,000 or more in 2005 compared to 20.6% in Riverside County as a whole. The largest percentage of Murrieta families (19.8%) were in the $50,000-$74,999 bracket, the second largest group (19.2%) made $100,000-$149,999.
In 2005, Murrieta's total personal income was estimated to have reached $2.46 billion, just behind Temecula ($2.55 billion). Using the $26,394 per capita income level applicable to the full Southwest Riverside County area, the city's merchants compete in a distinct market with 379,154 people and $10.0 billion in total income.
Murrieta is a somewhat diverse community. In 2005, 57.4% of the city's residents were White This was down from 71.8% in 1990. Another 21.8% self-classified themselves as Hispanic. This was up from 17.5% in 1990. Asian or Pacific Islanders were 7.8% of Murrieta residents, up from 4.1% in 1990. African-American residents were estimated at 6.3%, up from 3.2% in 1990. Native Americans, other races and multi-ethnic families were 6.7% of the city's population. Comparable levels for Riverside County were: White (44.9%), Hispanic (41.2%), Asian or Pacific Islanders (4.9%), African-Americans (5.5%) and others (3.5%). In San Diego County the shares were: White (51.6%), Hispanic (29.9%), Asian or Pacific Islanders (10.6%) African-Americans (4.8%) and others (3.0%).
Murrieta's educational levels are benefiting from local educational efforts and the migration of upscale families from San Diego County . In 2005, 24.3% of the city's adults aged 25 and over had either a bachelor's degree or advanced degree, well above the shares in either Riverside (20.3%) or San Bernardino (17.5%) counties. It was near to Los Angeles County< (27.6%) but below San Diego (34.0%) or Orange (34.9%) counties. Meanwhile, 63.4% of the city's residents had at least attended college. The share of city adults who stopped their school at high school was 36.6%. That was much less San Bernardino (50.9%), Riverside (47.8%) and Los Angeles (47.4%) counties and about equal to San Diego (35.2%) and Orange (36.2%) counties.
In 2005, Murrieta's largest population group were those 10-19 (20.6%), much larger than the 17.0% in the Inland Empire as a whole. This reflects the large number of relatively young adults buying new homes in Southwestern Riverside County . Thus, Murrieta's second largest group were 35-44 year olds (18.7%), a much larger share than for the Inland Empire (14.5%). In 2005, just 13.1% of Murrieta's population was 55 and over versus 17.5% for the Inland Empire . Looking at the households in which these people reside, the largest share (41.6%) were married couples with minor children at home. That was far more than < Riverside (30.0%) and San Diego (23.4%) counties and consistent with the city's role as a growing home for upscale younger families. Similarly, 60.6% of Murrieta households were married couples with or without minors. That was far more than Riverside (55.3%) or San Diego (49.3%) counties.
Compiled by: John E. Husing Ph.D.