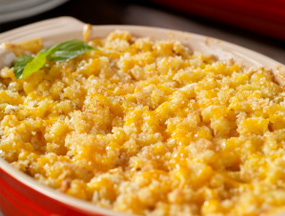 Everyone seems to love mac and cheese, especially men and kids! When I decided to focus on cooking more healthy meals for my family, I knew I still had to please my husband, my grown kids when they came to visit, and my grandkids. That's a tall order! This recipe fills the bill and no one would ever know there is a secret ingredient that gives it a huge nutritional boost!
Macaroni and Four Cheeses
Servings: 8
Serving Size: 2 cups
Ingredients
Cooking spray
One 16-ounce box elbow macaroni
Two 10-ounce packages frozen pureed winter squash or butternut squash
2 cups lowfat milk
1 1/3 cups grated extra-sharp cheddar cheese (4 ounces)
2/3 cup grated Monterey Jack cheese (2 ounces)
1/2 cup part-skim ricotta cheese
1 teaspoon salt
1 teaspoon dry mustard
1/8 teaspoon cayenne pepper
2 tablespoons plain dry bread crumbs
2 tablespoons freshly grated Parmesan cheese
1 teaspoon olive oil
Directions
Preheat the oven to 375 degrees F. Coat a 9 x 13-inch baking dish with cooking spray.
Cook the macaroni according to the package directions. Drain and transfer to the prepared baking dish.
Meanwhile, place the frozen squash and milk in a large saucepan and cook over low heat, stirring occasionally and breaking up the squash with a spoon until it is defrosted. Turn the heat up to medium and cook until the mixture is almost simmering, stirring occasionally. Remove the pan from the heat and stir in the cheddar, Jack cheese, ricotta, salt, mustard, and cayenne. Pour this mixture over the macaroni and stir to combine.
4. Combine the bread crumbs, Parmesan, and oil in a small bowl. Sprinkle over the top of the macaroni and cheese. Bake until the cheeses are bubbling around the edges, about 20 minutes, then broil for 3 minutes so the top is crisp and nicely browned.
PER SERVING (2 CUPS): 390 CAL, 11G FAT, 56G CARB, 18G PROT, 3.5G FIBER, 35MG CHOL, 547MG SODIUM. POINTSPLUS VALUE: 10.