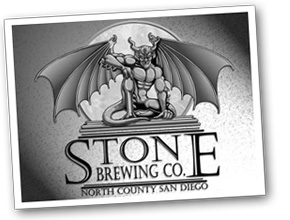 Years ago, when I first started getting into real beer I heard about Stone Brewing's Arrogant Bastard. The flagship ale, first released in November 1997, that beer enthusiasts around the globe have since come to know. My first impression was to wonder why they chose such a name. Initially I thought it was just a ridiculous label, but over the years I've come to wonder if it's more than that.
I've been a beer drinker and wannabe connoisseur for years. Having now seen and tasted hundreds of beers from around the world, I can confidently say that Stone makes some good beer. My favorite is their Imperial Russian Stout. I don't question the quality of their product, nor the success they've achieved, but their attitude may be a problem.
I've continued to wonder why Stone would choose to promote themselves with a name like Arrogant Bastard. Using slogans like you're "not worthy" of such a beer, and statements like "It is doubtfull that you have the taste or sophisitcation to be able to appreciate an ale of this quality and depth." Obvioulsy this is all just over-the-top margeting stuff - aimed at attracting attention. And it works. But does this say something about their overall attitude?
When the Stone Brewery World Bistro and Gardens in opened in Escondido everyone was excited. I've been there several times myself. The facility is amazing, the outdoor environment is like nothing else in our area, and the service is usually great. But I started to notice the "Arrogant Bastard" attitude there as well.
Everyone I know has wondered why there isn't a sign on the building or at any of the three entrances off Citracado Parkway, or in either of the parking lots, or any where at all. If you drive by the building, not already knowing what it is, you'll just keep going. You'd never know it's Stone Brewing or that there's a great restaurant there. During one of our dinners at Stone I asked the waiter about the lack of signage. He explained that the owners wanted to keep the location "exclusive" and only a "word-of-mouth sort of thing". As a business owner myself, that seems counter-productive, but okay.
During our most recent and possibly final visit to Stone, the hostesses declined to seat us. It was 7:30pm on a Tuesday. We went in for a few beers, planning to stay a short time and go elsewhere for dinner. It was raining that night and the dining area was sparsely populated. The bar area was packed, with nowhere to sit and a fight to get a beer. The hostess informed us that although there were several empty tables, those are reserved for full dining. She then asked us if we planned to each order a full entree. Wow! Then she took the time to walk us half-way to the bar to point out the three pub tables, also full, that are available for "drinks and appetizers". I explained that we'd like to sit for a few drinks, but there was nothing she could do. She was "following the policy". I didn't get loud or make a scene, but I wasn't very happy. We left.
On a rainy night, after the dinner rush, the policy is to turn people away, hoping that dozens more people will come later, for full dining, to fill the "reserved" seating throughout the restaurant? I think I've had enough with the "Arrogant Bastard" attitude. I like the beer, but not being treated that way. Funny marketing and silly slogans is one thing, but now they're just making me angry and losing business.
Stone brewery has over 22 thousand followers on Twitter and over 63 thousand people who "like" Stone Brewing Co. on Facebook. So let me ask, am I alone? Has anybody else encountered a similar experience? Does this apparent attitude bother only me? Have you drawn a different conclusion from your own experiences?