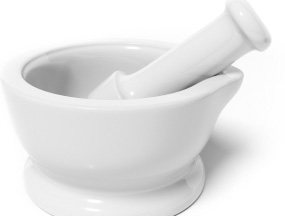 In addition to being a valuable resource for medical information, did you know that your pharmacist may be able to make specialty medication for you or your family? It's called compounding. Compounding is when a pharmacist makes medicines from raw materials. Compounding is done for a variety of reasons like an allergy to an inactive ingredient or dye, the need for a special dose that isn't made by the big drug companies, special dosing for a household pet, or even just to flavor a medicine to make it taste better. Medicines are also specially compounded if commercial products aren't available. Basically, compounding is the making of a medicine to meet the unique needs of the patient, whoever they may be.
Have you ever tried to give a child medicine only to have them spit it all over you or themselves? Trying to give a child medicine can be a daunting task! Let's face it, generally medicine doesn't taste good, and can be very offensive to children. Big drug companies try to flavor medicine designed for children, but it still doesn't taste good. Many pharmacies are able to add your child's favorite flavoring to liquid medications. They may also offer flavor boosters like sweetness enhancers or bitterness maskers. This "flavor enhancement" is considered compounding, but does not require a designated lab or special training to do it. Ask your local pharmacist. Chances are they are able to flavor any liquid medication for you.
Most other compounding requires a designated lab as well as specially trained staff to make specific products types. Commonly compounded medicines include hormones for both men and women. Sometimes these are called bioidentical hormone replacement therapy, or BHRT because the hormones used are identical to those we produce in our own bodies. BHRT can be used for anti-aging, menopause, andropause, and even during fertility treatments.
Compounded medications may be a viable option for our older family members or friends as well. As we age, we generally take more medication and it's more difficult to swallow. Compounded medications can be formulated to have multiple medication ingredients. They can also be formulated to be applied topically, dissolved under the tongue or in the cheek, be injected just below the skin or into a vein, and even inserted rectally.
Custom medications may also be compounded for the furry and feathery little members of our family. While veterinarians have a number of medicines available to prescribe for our pets, there are many more for human use. Many of which may be used safely in animals, but at much different doses. A compounding pharmacy can often make a special dose and flavor so our pet finds it desirable.
Contact your local pharmacist to find out if they are able to compound medicine, or if they recommend another pharmacy that does.